NSDC RECEIVES THE REPORT OF PRE-FEASIBILITY STUDIES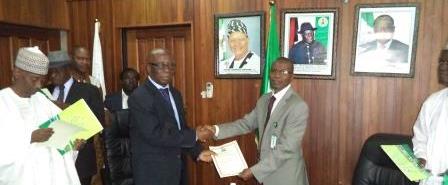 NSDC has received the report of Pre-Feasibility studies earlier commissioned for Four(4) different Sugarcane growing sites in the country. The pre-feasibility study serves as one of the many incentives to prospective investors to have some technical, climatological and economical information needed to take business decision. The sites are Guyuk, Mayo-Inne , Shelleng sugarcane growing areas; all in Adamawa State and Dangerri sugarcane growing area in Kogi State. Although a more elaborate/full-scale study leading to the production of a bankable feasibility report would still have to be conducted by any interested sugar investor later, the pre-feasibility report provides a good preliminary working document to assist investors make informed decision on viability of the proposed sugar sites.
NSDC will soon embark on both local and foreign INVESTMENT drive to market the 4 sugar project sites through road shows, while the pre-feasibility studies of sites identified as capable of supporting commercial cane production in the NSMP will also be conducted this year. The four Consultants who worked at the four different sites submitted their final report on 17th June, 2014.